S16 Chassis Series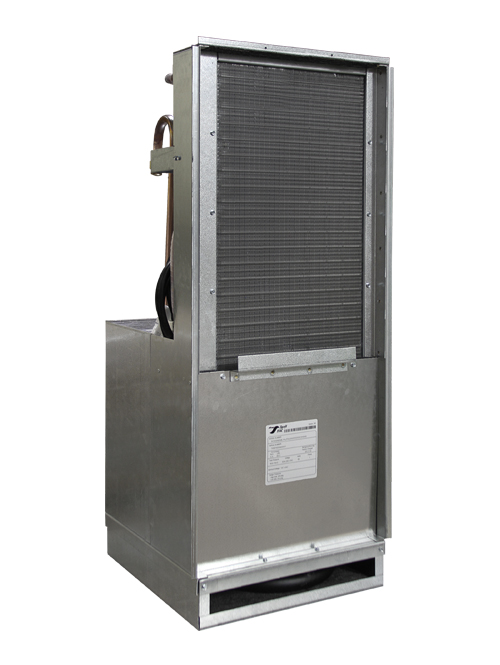 The Shorefit® S16 replacement chassis is designed to replace Climatemaster '816' & '817' units. They are available in nominal ¾, 1, 1 ½, 2, 2 ½ and 3 ton capacities. As part of a complete system, the Shorefit® S16 unit is engineered to fit into the existing cabinet space with matching electrical/water connections as the original unit. Each unit utilizes energy efficient quality components and tested in our psychrometric room to confirm safety, reliability and performance at multiple operating conditions. The extensive list of unit features includes:
Low pressure drop air coil
Stainless steel drain pan
Refrigerant circuit access ports
Compressor protection
Low and high temperature protection
Low and high pressure protection
Environmentally friendly refrigerant
ETL listed for safety and construction
---
Application & Benefits

Literature
The Shorefit® S16 series is designed to work with the existing blower section and can be ordered with a control and wiring configuration to match specific projects. Vertical stack units can incorporate special configurations not identified in the model number. Tools are available to assist in gathering this additional information.
Low Sound Level
The refrigeration chassis includes a compressor that incorporates engineered vibration isolators installed on a heavy gauge mounting base with a mounting system to maximize vibration dampening. A sound dampening enclosure constructed of heavy gauge metal lined with acoustical insulation encases the refrigeration circuit.
Fast and Easy Replacement
The refrigeration chassis consist of the compressor, air coil, water coil, reversing valve, expansion device, receiver, filter-dryer and safety controls designed for easy removal after disconnecting hoses and a polarized electrical power plug.
Product Protection
Units are provided with high pressure and low temperature safety controls configured in a lockout circuit to prevent damage to the compressor. The compressors are wired with either internal or external overload protective devices.
Common Options and Accessories*
Heat Pump, Cool Only & Boilerless
Geothermal Construction
Automatic Flow Control Valve
Electric Two-Way Valve
Electro-Mechanical Controls
Fan/Motor/Blower Assemblies
Return Air Panels
Hose Kits
Unit Power Voltage
Air Filters
* varies by project
Warranty
All units are provided with a 12-month parts warranty (from date of ship) for all components.
Note: The replacement chassis performance is based on providing the proper airflow through the new chassis. Existing fan assemblies affect airflow due to corrosion and caked-on dirt. Fan motors affect airflow due to age or improper specifications. Cleaning/Repair/Replacement of blowers is required prior to installation of new chassis. New fan/motor assemblies allow your new replacement chassis to perform properly for years to come.
Sales Brochure
---

Brochure - S16 Chassis
Cut Sheet
---

Cut Sheet - S16 Chassis
Installation and Operation Manuals
---

IOM - S16 Chassis Series
Product Specifications
---

Unit Specification - S16 Series